21 Apr

RKM rolls out HD Composite Roller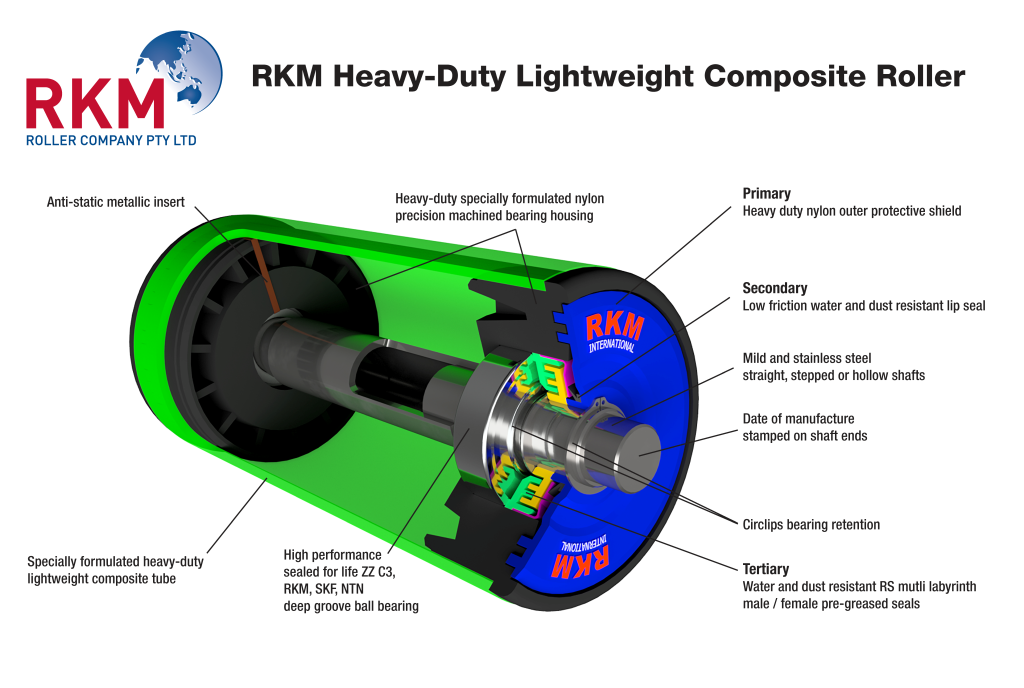 The RKM Roller Company, in collaboration with composite fibre technology company Wagners, have developed a heavy-duty, lightweight composite tube suitable for handling some of the highest duty cycles.
The composite roller uses a unique pull-winding process, along with high-grade reinforcement and resins to bind the fibres together, providing flexural strength and stiffness comparable to steel.
Brett Maiden, RKM Director, said the composite roller has been developed specifically for the heavy mining industry, particularly iron ore, where rollers are subjected to harsh operating conditions and large tonnages.
"The challenge with previous heavy-duty rollers made of PVC or HDPE was that they didn't have the flexural strength and stiffness to handle the load required on the troughing side of the conveyor which meant they were mainly used on the return side of the conveyor. Steel shells were still required for the trough side," he said.
"Our new light weight composite roller can handle the heavy weight that the trough roller encounters."
The rollers weigh around half as much as conventional steel rollers and produce less noise without sacrificing durability, which helps make manual handling on hazardous sites safer.
The product is not classified as hazardous according to the criteria of the National Occupational Health and Safety Commission (NOHSC) Australia.
RKM has incorporated its RS seal package, along with a primary heavy-duty nylon protective outer dual labyrinth shield into the roller. The shield provides additional protection against contaminant ingress and eliminates rock jamming.
The company also uses dynamic balancing machines to ensure the rollers meet AS3709 G16 and achieves the best possible TIR and MIS, reducing any noise generated from the belt running across the surface of the roller.
The materials used to build the rollers have already been tested across several mine structures including piping, casing, tubing, rebar, power pole cross arms, boardwalks, footbridges, road bridges, pontoons and jetties.
"Our new HD composite roller will be manufactured right here in Perth, enabling significantly shorter lead times for clients and quick deliveries for all non-standard and special orders," Maiden said.
The roller, combined with the embedded Vayeron Smart Idler Technology, allows the user to predict the lifespan of each roller and receive alerts on upcoming maintenance and changeouts.
-This article was published in Bulk Handling Review, 14 April 2022.